This is me, last year, in my room, which was pretty fantastic before I stripped the walls bare on a whim.
Taken by the lovely
Lauren Poor
, photo-genius, amazing friend, and constant source of inspiration.
All my favorite photos of myself are ones she's taken.
This was on canal street... I was brandishing those toy swords and a person to my right remarked that I was a ninja- girl or something to that affect.
It's hard to see in these pictures, but under that hat is some bleached-up hair. I was going for white. It didn't work out, but I may give it a try again.
I'm not really bothered by this though... sometimes it's more satisfying to mess something up than to try and make it perfect.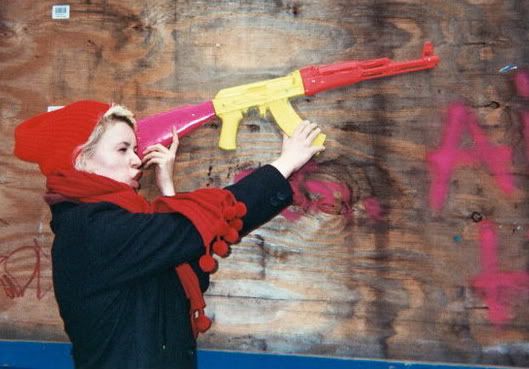 Let's see.... me in a nutshell. I'm an art student in Philadelphia. I'm interested in illustration, fashion, video art and animation. My favorite mediums are guache, acrylic, and bic ballpoint pens. I'm not completely sure what I hope to achieve with art, my life's ambition is really just to travel. Everywhere. I'm trying to learn roller derby and start a team at my school. I'm an environmentalist, a feminist, and a democrat-- politics is very important to me. I'm an atheist Quaker, of sorts.
I'm inspired by Henry Darger, Impressionists (Toulouse-Lautrec and Degas especially), E. E. Cummings, Sherman Alexie, and my favorite musician of all time is Elliott Smith. I also love Salem, Santigold, TV on the Radio, Diplo, Sufjan Stevens, LCD Soundsystem, Neutral Milk Hotel, Mumford and Sons, Beirut, and M.I.A. There's lot's I'm forgetting though.
Anyhooo off to do homework, I'm going to draw creepy baby dolls.
(I love being an art student.)